Queen on the Hillside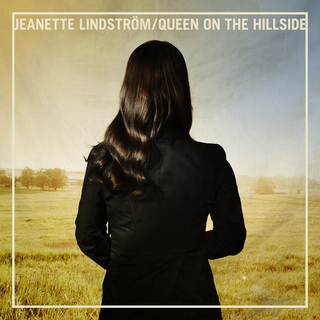 LISTEN: Queen on the Hillside
You were the Queen of the Mountain
You were the Mistress of forest and stream
You made me run on the Hillside
You made me move a mountain
Because you never gave in
( from "Queen on the Hillside" by Jeanette Lindström )
How do we become who we are? Those who go before us, what do they pass on to us? Do we inherit something? What does a role model, an early source of inspiration, mean?
In the title track on her new album Queen on the Hillside, dedicated to her grandmothers and to those who have gone before, Jeanette Lindström explores what it means to have someone who sets the example to never give up, and at the same time conveys lust, the courage to dream and the freedom to create something of your own. Finding your own way.
That Jeanette has found her own musical path is obvious. With Swedish Grammis winner Attitude & Orbit Control (2009) she had taken yet another step towards an expression and a sound that was already more than hinted at in her previous albums Walk (2003) and In the Middle of this Riddle (2005). A music still rooted in jazz but with an increasingly elaborate production and arrangements pointing towards pop music and a much heavier sound.
Attitude & Orbit Control was a milestone in more than one way, not least for the collaboration with the legendary Robert Wyatt who came to collaborate on five of the album's tracks. Jeanette Lindström and Magnus Öström's fruitful producer collaboration also meant a lot for the final result. That the album eventually was rewarded with the Grammis for best jazz album of the year 2010 was a well-deserved ending of a very memorable journey.
The new album, Queen on the Hillside, her seventh full-length album in her own name, is bursting with original music. Eleven tracks with music and lyrics from Jeanette Lindström's pen. Songs with strong melodies in intricate and airy production with meaningful lyrics. And then that magical voice that always so congenially presents them.
This time around Jeanette Lindström has chosen to produce herself. With Fingerspitzengefühl she has carefully chosen musicians to colour each song as required. She is backed by her own band; Jonas Östholm, piano and keyboards, Andreas Hourdakis, guitars, Thobias Gabrielson, electric bass and Magnus Öström, drums and electronics, but we also hear Steve Dobrogosz and Daniel Karlsson on piano, Dan Berglund on double bass, Rigmor Gustafsson, vocals, John Eriksson and Pelle Jacobsson, marimba and the Stenhammar Quartet in string arrangements by Per Mårtensson, Karl-Johan Ankarblom and Jeanette Lindström herself.
Together with her band and these guest musicians, Jeanette Lindström takes another big step on her own path.
Credits
Jeanette Lindström – vocals, keyboards, Wurlitzer, hammond organ, backing vocals
Andreas Hourdakis – electric and acoustic guitars, backing vocals
Jonas Östholm – piano, keyboards, Fender Rhodes, Wurlitzer, vibraphone, backing vocals
Thobias Gabrielson – electric bass, backing vocals
Magnus Öström – drums, percussion, electronics, backing vocals
Daniel Karlsson – piano
Steve Dobrogosz- piano
Dan Berglund – double bass
Pelle Jacobsson – marimba
John Eriksson – marimba
Rigmor Gustafsson – backing vocals on "Fragments"
The Stenhammar Quartet
Peter Olofsson – violin
Per Öman – violin
Robert Westlund – viola
Mats Olofsson – cello
String arrangements
Per Mårtensson "Queen on the Hillside and That Cloud"
Karl-Johan Ankarblom "Try to be"
Jeanette Lindström "Vem"
Magnus Öström plays Zildjian Cymbals exclusively.
Rigmor Gustafsson appears courtesy of ACT Music.
All music & lyrics by Jeanette Lindström
Produced by Jeanette Lindström 
Album Production Assistant: Göran Petersson
Recorded and mixed by Janne Hansson at Atlantis Studio, Stockholm in May 2012, except Commence by Göran Petersson with the Brus & Knaster Mobile Studio in April and June 2012. 
Additional recordings and overdubs recorded by Göran Petersson at Brus & Knaster Studio, Jeanette Lindström at Occupied Mind Studios, Magnus Öström at Islandstream Studios, and Janne Hansson at Atlantis in May 2012. 
Mastered by Claes Persson, CRP Recording in June 2012.
A&R: Lars Tengroth 
Art Direction by Dan Abbott
Graphic Design by Johan Månsson
Photos by Per Kristiansen
Hair & Makeup by Tove Jansson
Stylist: Maria Sjödin/Maria Sjödin Stockholm