Press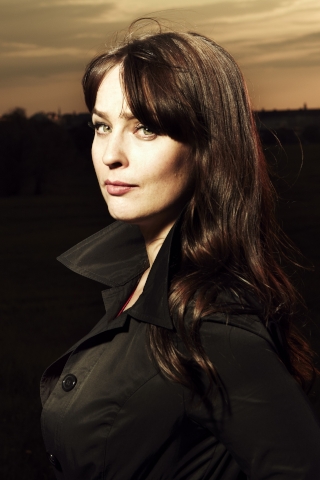 For press photos please contact Diesel/Playground Music Scandinavia: help!
"Lindstrom sings in such a way as to invite the listener into her own world. Like waking up on a warm summer day, welcomed by birds singing. It's a world full of depth, dimension and beauty.
--Jazzreview.com
Press quotes about "Queen on the Hillside"
"The record is timeless, atmospheric and meticulously constructed"
"both a homogeneous and multifaceted album."
"Jeanette Lindström makes one feel every syllable viscerally, gently landing in The Stenhammar Quartet's strings, Jonas Östholm's piano and Dan Berglund's bass (so extremely nice when it enters in the second minute)."
"Then we have to mention the closing duo jazz ballads, "Try to be" and "North". With Steve Dobrogosz's sensitive piano – and Karl-Johan Ankarblom's discreet string arrangement in the former – they create a stylish, touching and strong finale to a very well thought out album."
Rating: 5
-- Svenska Dagbladet
"A sensitive and powerful voice between bewilderment and strength"
"The melodies are attractively carved out and the arrangements appealingly diverse, from the string quartet in "That Cloud" to "Breathe", which expands into grand effervescence"
"All the performances are distincly high-class, especially that of Magnus Öström who makes his mark with his patented rolling drumming."
"The main character has her own style, a blend of sensitivity, authority and weight inside a great, elastic voice."
Rating 4/5
-- Sydsvenskan
"A longed-for follow-up"
"Staggeringly beautiful songs dressed in everything from "Supertramp electric piano" to sweeping strings and pulsating drums."
"She sings outstandingly well, surrounded by her band where Jonas Östholm's piano and Andreas Houdrakis's guitar further emphasize the songs' timeless quality and give them even more luster."
Rating 5/5
— Värmlands Folkblad
"highly personal"
"Lindström's voice is unbelievably rich in its expression and varies between the fragile and the powerful, the ethereal and compact – whispered, narrated, sung."
"From start to finish, it is warm and easy to listen to. The Wurlitzer intro to Falling makes one think of Supertramp. The song is cleverly constructed around exquisite melodies."
"The album stands as a highly personal and dynamic whole"
Rating 4/5
— Nya Wermlandstidningen
"Jeanette Lindström is an artist who really has found her own voice."
"Jazz is perhaps the main ingredient, but it would actually degrade the music to try and fit it into a genre."
— Lira
Press quotes about "Attitude & Orbit Control"
"The strength lies in her vulnerability and openness."
"... a real spacewalk that takes off in the personal and lands among the stars."
"Sophisticated, and absolutely outstanding."
Review 5/5
-- Dagens Nyheter (Sweden)
"Attitude & Orbit Control is Jeanette Lindström's best album so far, may as well say it right away"
-- Svenska Dagbladet (Sweden)
"..the musical world and sound of co-producer and former e.s.t.-drummer Magnus Öström has had an evident importance for the final result, which I have to say is outstanding"
"In space, among the clouds or in the earth doesn't matter – Jeanette Lindström's songs find their way to your heart, over and over again."
-- Värmlands Folkblad (Sweden)
Press quotes about "In The Middle Of This Riddle"
"The singer and composer Jeanette Lindström is on to something big, we already know that. ... Partly it's about a, for being jazz, unusually strong melodic element, partly a developed ability to organically incorporate pop- and soul influences, and also – which is worth noticing; good lyrics."
"The opening track Always is a gem"
"There are several tracks that should be particularly acknowledged, among them Leaf and When Things Get Real, and also details in the sensitive playing of the band, but for now I'll have to limit myself to emphasize the intimate ballad End; fastidiously performed by one of Sweden's best voices in jazz, to her own piano accompaniment, but with a potential to grow out to a magnificent soul ballad."
--Svenska Dagbladet (Sweden)
"Lindström is breaking new ground by taking care of everything. She's a singer/songwriter in jazz. And that really means a difference. On the new "In The Middle Of This Riddle" she stands out more clearly and richer than ever before."
"... narrates very beautifully. Close and thoughtful. But also with a musical delight [desire] and skilfulness which creates pregnancy and lustre."
--Dagens Nyheter (Sweden)
"The songs feels stronger than ever. Jeanette Lindström is now one of the best composers we have in this country. Every tune lives on its own strength."
"For some reason, everything this girl touches becomes positively beautiful. "In The Middle Of This Riddle" is a milestone in Swedish jazz."
--Länstidningen, Östersund (Sweden)
*"If Norah Jones is the stepping stone then Swedish singer Jeanette Lindstrom is the bridge with In the Middle of This Riddle. She's capable, at times, of the same sultry delivery that makes Jones so appealing, but possesses a purer tone—sweet without being syrupy. While she generally leans towards the same kind of less-is-more approach that defines Jones, she makes it clear on tracks like the fiery "From This Tower"—where she scats up a storm—that she's got jazz chops to spare. ...
Lindstrom proves that there is a link between Norah Jones' pop sensibility and a clearer jazz-centricity—and would no doubt find a welcoming audience on this side of the Atlantic for her accessible yet uncompromising work."*
— allaboutjazz.com
---
Press quotes about "Walk"
"Lindstrom sings in such a way as to invite the listener into her own world. Like waking up on a warm summer day, welcomed by birds singing. It's a world full of depth, dimension and beauty. Production and sound are first rate. A refreshing work of art, listening to Walk not only invites repeated listening but may well become a classic for years to come. Lindstrom's silky smooth delivery, as well as insightful arranging make this one of the top recordings of 2003."
--Jazzreview.com
"With her new album Walk Jeanette Lindström consolidates her position as perhaps the leading jazz vocalist in the country." "It's above all the entirety that persuades." "One of Jeanette Lindström's strengths is that she avoids every cliché and sculpts a uniquely personal sound." "I dare at this early stage conclude that Walk is a sure candidate for best jazz album of the year." "Lindström allows the lyrics to carry and play an integral part in the songs, a way to create moods with poetical metaphors, at times melancholy but never sentimental."
--Upsala Nya Tidning (Sweden)
En Français!
..."Cette fois, la chanteuse signe la quasi-intégralité du répertoire, paroles et musique. En prime, une version idéalement diaphane, à fleur de peau de The Two Lonely People de Bill Evans et un standard rare de Burt Bacharach, Trains and Boats and Planes. D'un bout à l'autre, un univers imperceptiblement acidulé, très délicat, une voix assurée s'amusant de volutes ouatées." "Quelques inflexions pop jouant sur le dépouillement, tel un versant féminin d'Elvis Costello, ou juvénile de Joni Mitchell ; une approche vocale qui met la musicalité en avant sur des textes reflétant les émois intérieurs... Une frissonnante découverte."
--Jazzman (France)
"The purchase of Jeanette Lindström's Walk will paint a portrait of a skilled and unwavering songwriter, with an intuitive feel for jazz arranging as a coherent theme throughout the 64 minutes of euphony. With great ease she weaves together different directions, musicians and traditions from Northern European jazz, something which gives a broad frame of reference for an international audience."
--Musikkguiden groove.no (Norway)
"Tranquil yet forceful Jeanette Lindström's "Walk" has taken over the stereo at home on a daily basis."
--Svenska Dagbladet (Sweden)
"Her voice encompasses just about the entire spectrum of human emotion"
--Länstidningen, Östersund (Sweden)
"Phenomenally complete and consistent with original material cast in an innovative mold" "Jeanette Lindström has powerful and confident control of her genre." "Dense and beautiful" "she has evolved to the level of international elite. Her maturity is evident in both her voice and her lyrics."
--Helsingborgs Dagblad and Nordvästra Skåne (Sweden)
"Jeanette has composed the greater part of the material herself, demonstrating that she not only is one of this country's leading vocalists but also a skillful composer."
--Musikindustrin (Sweden)
"It's beautiful, utterly so."
--Dagens Nyheter (Sweden)
"The lush voice carries "Walk" into a realm of pleasure as one of this years best jazz albums only a few months into 2003." "Never before has she so opulently and sincerely expressed her personality in music."
--Östgötakorrespondenten (Sweden)
"With respect to emotional vocals Jeanette Lindström is without competition in our country. She has a way of captivating one, in an intimate way which pleases me me very much." "...a striking and personal creation."
--OJ – Om Jazz (Sweden)
---
Press quotes about "Whistling Away the Dark"
"You just have to surrender. Many have gone before her, recorded jazz standards as a fruit of their apprenticeship, as a test of maturity, but this is a beautiful confirmation of more. Jeanette Lindström is a top-notch jazz singer with a voice and numerous of her own compositions to render her an indisputable place among the true giants."
"An inevitable classic..."
--Nerikes Allehanda (Sweden)
"Lindström finds the words that I so intensively seek. Rightly speaking, she may not be the one who found the words – this particular recording is exclusively of others' music – but the way she gives expression to them convinces me that this is exactly the way she feels."
"This album was spinning in the background while I was repainting my house one Saturday. I heard it five times before the walls were done, and then I played it two more times just for the pleasure of it. That says a lot."
--TT Spektra (Sweden)
"I can't put my finger on it, but she got me to listen. Something about her voice is intriguing."
--Länstidningen, Östersund (Sweden)
"This is an album I really love. The way she gives expression to these nearly worn-out classics is so cool, so tender and personal. I mean Night and day? It's daring, to say the least, to have a go at this song. Who needs another version? Jeanette Lindström doesn't care and sings to an accompaniment that's so graceful and light that the base line is something you just sense. All of a sudden I hear what a good song it is. That's the thing about this album; it injects new life into tunes you thought had been sung to death. But because she's so well-grounded in tradition and experienced, Jeanette is someone who's capable of interpreting and reviving them."
--Trots Allt (Sweden, web review)
"Jeanette Lindström sings in her own exquisite way, songs from the repertoires of Fred Astaire, June Christy, and Johnny Hartman. Lush life and My one and only love... Bobo Stenson's crisp and lyrical piano takes me to the sincerity of McCoy Tyner on the Impulse label, back to John Coltrane and Johnny Hartman exactly 40 years ago. The young Jonas Östholm alternates with superb sensitivity on the keys. Magnus Öström's drums are alive in their pursuit. Eden Ahbez, the first hippy, wrote Nature boy, a jewel that is sung in spiritual dialogue with Palle Danielsson''s double bass. John Lennon's Grow old with me, – the overall choice of songs generates a thought-provoking poetry of life in major and minor."
--Svenska Dagbladet (Sweden)
Miscellaneous
"...an old soul in a young singer!" "she has really understood what jazz is all about!"
--Quincy Jones
"a brave musician..."
--Dagens Nyheter (Sweden)
"There is a refreshing courage to Jeanette Lindström"
--Göteborgs-Posten (Sweden)
"Jeanette Lindström has got that special ability which many others lack. The ability to become one with the music. Everything feels so natural."
--Norra Västerbotten (Sweden)
"An evening with Jeanette Lindström surely heals broken hearts."
--Länstidningen, Östersund (Sweden)