News
"Jeanette was awarded a Swedish Grammis for Best Jazz Album of the Year for her latest release Attitude & Orbit Control, co-produced by her and drummer Magnus Öström, and with legendary Robert Wyatt appearing as a guest on five tracks. Jeanette Lindström has the ability to set the imagination of the listener in movement – with her voice, her music as well as with her words. Her sixth solo album serves as hard proof. "Attitude & Orbit Control is Jeanette Lindström's best album so far, may as well say it right away" wrote Svenska Dagbladet, and fantastic reviews have been raining over this album."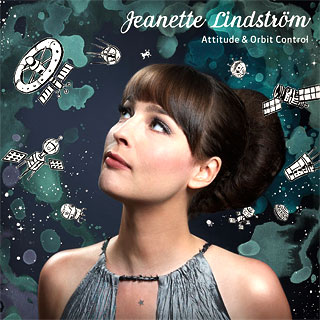 New album
Jeanette has been working on a new album to be released on Diesel Music/Playground Music Scandinavia, more info will come…..
Jeanette on Facebook
For more news & info about one of Sweden's most prized jazz singers, become a fan on Facebook.
---
Video interview from Paris
Interview with Jeanette about her relation to Paris, and clips from a concert at the Centre Culturel Suédois in 2011. By Alexandre Simonet at the Paris blog "United States of Paris": unitedstatesofparis
AOC on iTunes
Attitude & Orbit Control – with very special guest Robert Wyatt is available on iTunes, worldwide. The iTunes-version also includes a bonus track.
River Remix
The EP River Remix, including the Håkan Lidbo-remix as well as the two album versions of River, is available worldwide at online stores where you can by and download music digitally, such as Amazon, iTunes, etc. You can also listen to it at Spotify, Soundcloud or Jeanette's My Space. For more info & links: www.facebook.com/notes/jeanette-lindstrom/river-remix.
River feat. Robert Wyatt in Rookie Blue
Jeanette's song River, the version featuring Robert Wyatt from her album Attitude & Orbit Control, appeared in episode 13 "Takedown", in the first season of the Can/US TV-show, Rookie Blue. More info at rookiebluemusic.tumblr.com
Honorable mention for We Would in the ISC
The song We Would by Jeanette Lindström received an honorable mention in the International Songwriting Competition (ISC) in 2010, and ended up on place no. 26 out of 145 in the People's Voice (no. four in the Jazz Category). Thanks all who voted!
We Would from Attitude & Orbit Control was selected as a finalist in the Jazz category. The ISC is regarded as one of the world's premier international songwriting competitions, and the entrants are from all over the world. ISC finalists were chosen out of approximately 15,000 entrants. The song We Would was one of 13 finalists, and the only Swedish one in the Jazz category. The panel of judges consisted of music industry professionals as well as artists such as Tom Waits, McCoy Tyner, John Scofield, Loretta Lynn, Timbaland, Robert Smith (The Cure), Robbie Williams, Youssou N'Dour, Jeff Beck and others. The New York Times called ISC, "the songwriting competition to take note of."
Attitude & Orbit Control
With the completion of the mastering sessions, the final pieces of a puzzle that has taken close to two and a half years to complete have finally slid into place; A new record label, travels to the UK, co-writing and recording with the legendary Robert Wyatt – who appears as guest on five of the album's twelve tracks, a whole new band and a fruitful new producer collaboration with Magnus Öström (of e.s.t.) who also plays on the album. The album was recorded in the venerable Atlantis Studios in Stockholm by master sound engineer Janne Hansson. Attitude & Orbit Control was released on the 21st of October 2009 by Playground Music Scandinavia on the Diesel imprint. As on most of her records A&OC comprises mainly original material, one cover, The Flaming Lips' song All We Have Is Now, is the only exception this time.
Canadian gig review
Review from a concert at The Cultch (East Vancouver Cultural Centre) in Vancouver: www.jazzreview.com.
The KING BRITT remixes
Swedish nu jazz vocalist and composer Jeanette Lindström meets American DJ, producer and band leader King Britt in
LEAF – King Britt Scuba Mix + King Britt Scuba Ambient Mix
---
To get it or listen to samples, go to: iTunes Europe
King Britt – American DJ, record producer, band leader, remix producer, composer and film music scorer from Philadelphia. Has toured with Digable Planets under the nickname "Silkworm", co-founder of Ovum Recordings together with Josh Wink, band leader and music director of Sylk130 collective.
King Britt's natural talents as a remixer has resulted in a total subversion of rhythms and of the original tunes conceptions, from the works of Yoko Ono and Femi Kuti to the ones of Erykah Badu and Macy Gray. In 2002, together with other celebrities like Masters At Work and Joe Claussell, King Britt was invited by the people from legendary Jazz label Verve Records to contribute to the acclaimed compilation "Verve Remixed".
On this project King Britt has turned to the music of Swedish singer, composer and arranger Jeanette Lindström and a track culled from her album "In The Middle Of This Riddle".
Listen…
To listen to mp3 files, go to Discography. For more info about concerts, please go to Calendar.