Jeanette Lindström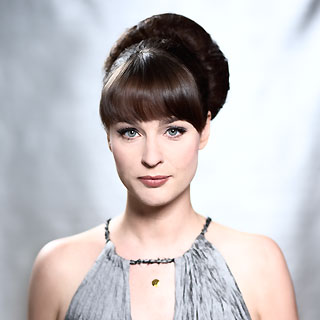 New album – Attitude & Orbit Control
"In the Spring of 2009, as the material for this album was taking shape, I was invited to visit the Swedish Space Corporation just outside Stockholm. There I encountered the term Attitude & Orbit Control. It immediately struck me as the perfect title for the album about to be born. The Attitude of a spacecraft is about its orientation in space, the Orbit Control system handles the change or maintenance of its motion, and where it's heading. To me, this related to the content of the songs. The voyage of the satellite, its attitude and orbit control, is a valid metaphor for all of us in our travels through life."
"Since my latest album comprising original material in 2005 I have changed record label, I have started a new band and I have decided to further develop my sound and move forward musically. It's been a long trip with interesting and important encounters. To work with Robert Wyatt has meant a lot and has been very gratifying. My co-work with Magnus has been decisive, his input tremendously important. We have worked hard and intensely and without him this album would not have become what it has. And of course the new band that I am immensely happy and proud of. They are all important parts of this creation."
— Jeanette Lindström
What constitutes a good song? A catchy refrain? The perfect bridge? A hook that won't leave you once heard? What makes a singer? Perfect pitch, stage presence, big vocal range? Not easily answered questions. The outlook and the inclinations/taste of the observer/listener probably more important than any generic or axiomatic truths. If indeed there are such. The technical aspects… of course, a good singer will sing in tune and will have the ability to carry the tune while also having the listener believe in what she or he is conveying. The diction, the timing, and acting, to get under the skin of the audience, to move, to capture and hold their interest. For two sets a night, or for the duration of an album or for that matter just for one song. It's intangible yet very real, some have the talent innately, others don't.
Swedish singer/composer/lyricist Jeanette Lindström is threefold gifted. She has that ability to set the imagination of the listener in movement; with her voice, her music as well as with her words. In sync. Her sixth solo album Attitude & Orbit Control serves as hard proof. A space odessey of sorts, interpersonal as well as interstellar. Micro- as well as macrocosmic forces at play. Fellow travelers include co-writing guest vocalist Robert Wyatt, a whole new band and new co-producer and drummer Magnus Öström of e.s.t. as well as lyrics contributor Sidsel Endresen.
The new album, entitled Attitude & Orbit Control, was released in October 2009 by Diesel Music, and in January this year Jeanette received a Grammis for it, in the jazz category, at the Swedish Grammis Awards gala in Stockholm. As on most of her records A&OC comprises mainly original material, one cover, The Flaming Lips' song All We Have Is Now, the only exception this time.
Jeanette Lindström has always been an artist keen to tour and her travels have brought her to many parts of the world, the Nordic countries as well as France, Belgium, UK, Japan and Canada. France and Canada have come to be something of second home countries to Jeanette, and her latest albums have also found their way to the hearts of the French record-buying public.
Attitude & Orbit Control
Produced by Magnus Öström & Jeanette Lindström
Jeanette Lindström – vocals, grand piano, Fender Rhodes
Andreas Hourdakis – guitars, banjo, mandolin
Jonas Östholm – grand piano, Wurlitzer, Fender Rhodes, organ, voice
Thobias Gabrielson – electric bass
Magnus Öström – drums, percussion, electronics, vibraphone, guitars, syntheseizers, voice
Guest appearances by:
Robert Wyatt – vocals, trumpet
Rickard Krantz – pedal steel
Åke Skommar – church organ
David Lindvall – electric bass
Ola Hultgren – drums, percussion
Jonas Lindgård – violin
Svante Henryson – cello
"Lindström sings in such a way as to invite the listener into her own world. Like waking up on a warm summer day, welcomed by birds singing. It's a world full of depth, dimension and beauty."
Jazzreview.com
---
Jeanette Lindström is the singer that once prompted legendary producer Quincy Jones to voice the portentous words: "An old soul in a young singer", and also: "She really understands what jazz is all about!". Today Jeanette Lindström is one of Sweden's most prized jazz singers, but at the same time she has never been opposed to stepping outside of the borders of jazz.
The priorities are her own band and her own compositions. Composing and performing her own material, both music and lyrics, has always played a central role in Jeanette's musicianship. Throughout the years Jeanette has also worked in other bands and projects and appeared on several occasions as a featured vocalist with renowned jazz groups, big bands, chamber orchestras and symphony orchestras. She has given concerts and toured extensively throughout the Nordic countries as well as France, Belgium, UK, Japan and Canada.
The CD Walk was released in 2003, marking the start of a new collaboration with the Amigo record label, and in 2005 the album In The Middle Of This Riddle was released. These two consists mainly of her own compositions, and were unanimously praised by both press and audiences. The album Whistling Away the Dark was recorded and released in 2006, and was also very warmly received. That is her first standard album in her own name, and just like her previous two albums for the Amigo label, the new album was recorded at the famed Atlantis studio in Stockholm.
The song Leaf from In The Middle of This Riddle was remixed in 2007 by the famous American DJ and producer King Britt, and was exclusively released on iTunes Europe. Another track from the same album was featured on the Saint-Germain des Pres Café – "Ladies in Nu Jazz" – Volume 7, alongside tracks with Norah Jones, Beaudy Belle, Jamie Cullum, Susi Hyldgaard and others.
After being awarded the "Jazz In Sweden"-prize Jeanette recorded her debut CD, Another Country, on the Caprice record label in 1995. This recording was followed by yet another on the same label in 1997, called I Saw You. In 1998 she recorded and toured with Norrbotten Big Band led by trumpeter Tim Hagans in collaboration with pianist Kenny Werner, resulting in a CD featuring music by Kurt Weill as well as repertoire associated with Frank Sinatra, which was released in 1999. For several years Jeanette worked in a duo along with pianist Steve Dobrogosz. In 2000 they released a CD called Feathers (Prophone Records). She has also toured and recorded with bass player Anders Jormin (Once, Dragon records 1997).
In the fall of 2008 signed with the Swedish independent label Playground Music Scandinavia/Diesel Music, and her latest album Attitude & Orbit Control was released by them in October 2009. Magnus Öström (from e.s.t.) has co-produced and is also playing drums on the album. In January 2010, Jeanette received a Grammis for Attitude & Orbit Control in the Jazz category, at the Swedish Grammis Awards in Stockholm.